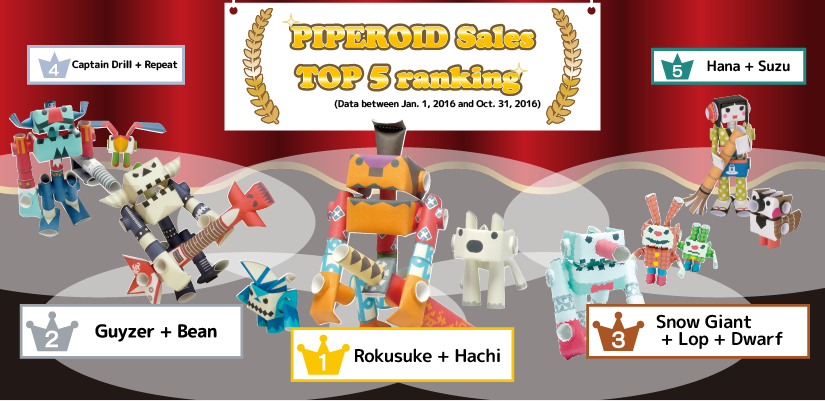 【Winners' comment】
"Japan is too small for a Kabukimono like me to crisscross. The world is our stage! Come on! Let's go, Hachi!"
*Kabukimono - a member of a group of jobless samurai warriors

Rokusuke came first! Fair and square! This Japanese-inspired character wins extensive popularity from overseas as well. Relatively easy to assemble. Recommended for Piperoid beginners!

【Winners' comment】
"Me 2nd place?! This greatest hard rocker in a century?! Absolutely nonsense!
You guys, be all ears to my super extraordinary guitar!!"

Good Heavens! Our winner in 2014 Guyzer and Bean came 2nd this year! Their slow tweeting might have led to their defeat. Just keep up working hard to become the world top band, Guyzer & Bean!

【Winners' comment】
"Hey Dwarf, strange, but somehow we came 3rd…. What do you think the prize will be? Better be a big sled and shovel…."

Our rumours that they will be most loved in cold seasons turned out to be completely wrong --- in fact, the 3 second runner-ups proved themselves popular throughout ALL the seasons!

【Winners' comment】
"Fame isn't worth a penny! Gold, silver, treasures and adventures are what I'm crazy for! You got it? Get me a new ship right now!"

Just by one look, you can tell he is a captain of pirate. The secret of his popularity may have come from this simple character setting. A must-display item in summer.

【Winners' comment】
"Oh, oh, thank you soooo much for selecting me! As the poster girl of the café, I'm, I'm sooo honoured. But…. maybe next time, only next time will do, I wish I could stand a bit closer to my Rokusuke…. ooooh, can't believe I have even said that…. "(blush)

Like Rokusuke, Hana and Suzu are also Japanese-inspired characters. Hana is cute and so is Sparrow Suzu. In fact, Hana's wish to get closer to Rokusuke may soon come true?!